Blog: Going Disney Dopey
A RunDisney experience is one to remember! No matter what distance you run, no matter how fast you run: Every Mile is Magical! And that's especially true at Disney World in Orlando. There, every year in early January is the biggest RunDisney event of the year: Marathon Weekend. As the name suggests, you can run the marathon then, but half marathon, 10 kilometres and 5 kilometres are also on the programme. But Disney wouldn't be Disney if they didn't add a little twist to this in the form of Challenges. Goofy's Challenge, as the name suggests, is "goofy" (a bit crazy); you will run the half marathon on Saturday and the full marathon on Sunday. But it can be even crazier... You can run all distances: the 5 kilometres, the 10 kilometres, the half marathon and the full marathon on four consecutive days; the Dopey Challenge. Our ambassador Natalie is absolutely crazy about running as well as Disney, she ran in the 2019 Dopey Challenge. Read her story below.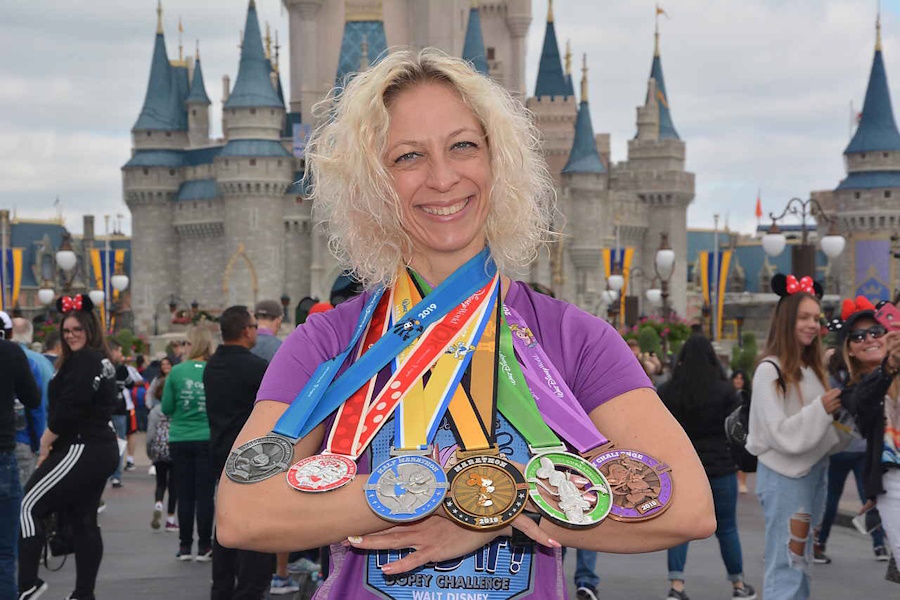 In 2019, thanks to my parents, I finally ran my dream event, namely the Dopey Challenge. It started off pretty tumultuous due to missed flights, a missing suitcase and a very sad news from the home front; but looking purely at the runs, this was one of the highlights of my running life.
After arriving in Orlando, I checked into Disney's Pop Century Resort and headed to the Expo early the next day to pick up my start numbers and shirts and, of course, purchase the necessary merchandise. The place was pretty busy, but all in all I had everything sorted out quickly. Besides all kinds of RunDisney merchandise, there are countless other stands where I was fortunately able to arrange energy gels and sports drinks, because they were of course in my missing suitcase.
The rest of the day was all about getting food at the huge supermarket just outside Disney World (highly recommended as it's much cheaper than buying everything locally), arranging running clothes and other necessities (because the emergency kit in my hand luggage wasn't that extensive; I did have all my running shoes in it, which was a small bonus). Fortunately, there is an extensive Outlet Mall nearby. I try to relax as much as possible and eat well. And to bed on time, because I'm going straight to the start with the first bus...
The alarm clock already went off at 02.00, yes 2 o'clock in the morning, because the bus to the start/finish area left at 3 o'clock (those buses run from all Disney resorts, very convenient). So, a very short night, but luckily the jet lag meant it didn't even feel that extremely early for me. Unfortunately, the Disney outfits I wanted to wear were in the missing suitcase, so much more than a tight and shirt with little princess crown was unfortunately not in it. An American friend and her RunDisney group of friends took me in tow. It was pretty cold (about 3 degrees, and that in Florida!!!) so I was very happy with the poncho I brought along, which still provides a bit of warmth. The old jumpers I had brought for this purpose were in the missing suitcase...
I didn't have to drop off any clothes, so walked straight to the start boxes (quite a bit of a walk). After the countdown, the start fireworks exploded and I was finally allowed to go off on the 5 kilometres! The course mainly took me through the Epcot park and its immediate surroundings. True photo stops with various Disney characters at all sorts of places; of course, I did them all. Just after the iconic silver Epcot globe, the finish line came into view and I was allowed to receive my first medal.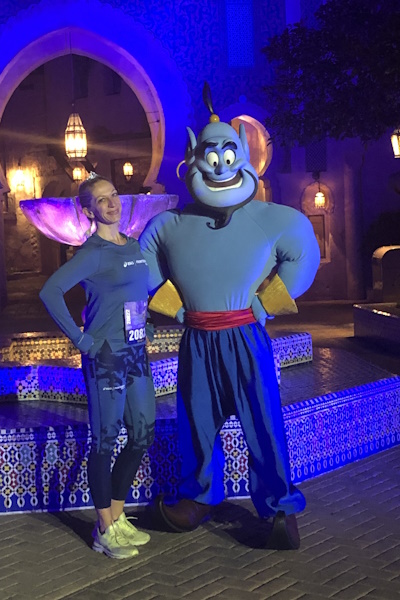 It took a while to find the right bus back to my resort, but everything was perfectly signposted. After a lovely shower in my room, I decided to head to Animal Kingdom in my marathon jacket and medal. The sun had finally come through so it was lovely! Just to refuel with a leisurely tour of the park where I was able to do a few attractions (including the then just new Avatar attractions) and took more photos with cute Disney characters. By now, the first photos from the run had also been uploaded in the Photopass app; it costs a bit, but then you really do have something! After a quick pasta meal in the park and the light parade on the water, we quickly headed to the resort to get some sleep.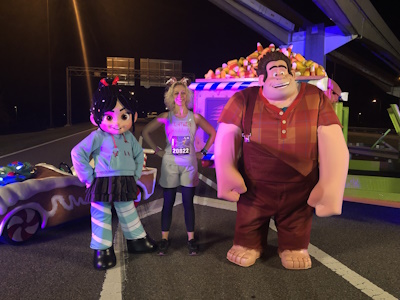 On Friday, 2nd run was scheduled, so once again the alarm clock was set at 02.00 and I took the first bus to the start. The temperature was still quite low, so I wore a charming creation of RunDisney warm-up foil over my newly purchased running clothes. On for the 10 kilometres where again I stopped everywhere for fun photos with the Disney characters. The route took in the roads around Epcot and nearby Disney resorts like the cool Boardwalk. How cool it was to see so many supporters and staff along the way so early anyway. Great also to spot all the creative Disney costumes of fellow runners! And passing the shiny Epcot globe, medal number 2 was in.
After a lovely shower, I headed towards Disney Springs (Disney World's shopping and entertainment centre) to eat a good pasta. Then back to Epcot to wander around the park not running but relaxing. I did a few of my favourite attractions like Soarin and Test Track, and the then-new Frozen Adventure was not to be missed either. In the end, I returned to the resort in time for a simple but good pasta at the restaurant before going to bed quite early.
Quite surprisingly, also on day 3 the alarm went off at 2 a.m. and I was back on the first bus to Epcot. Once there, I sought out the so-called Race Retreat; an extra bookable package which meant I had access before and after to an indoor area with unlimited breakfast, toilets, a separate bag drop-off and unique photo opportunities (unfortunately, the Race Retreat no longer exists). By now, nerves were starting to set in with the half marathon on the programme. This too was started with a beautiful fireworks display. After the start, I noticed some fatigue and stiffness for the first time. But hey, I'm running in Disney World!!!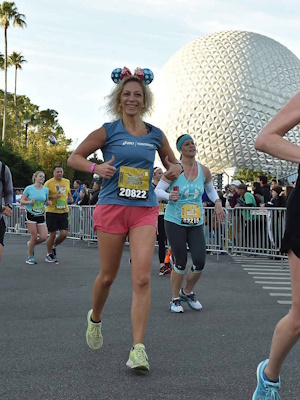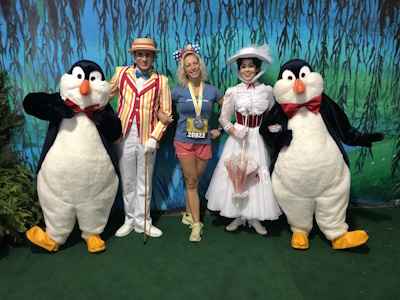 By half, we walked from Epcot along the main roads in the resort past the monorail and then right through Magic Kingdom. Of course, there were again numerous photo opportunities along the way. One of those stops had hefty queues so I lost a lot of time. Not bad in itself, but this put me in a busier walking crowd which made it hard for me to walk smoothly myself, especially when the trail was a bit narrower. Butttt there was the moment I had been dreaming of: running through the castle which is still fully illuminated with countless Christmas lights! Fantastic to do and over far too quickly. On the way back the temperature rose quite quickly; so all in all quite a tough run. But I can tick off the half marathon as well, medal number 3 in da pocket.
That afternoon, I couldn't resist going to Magic Kingdom for a few shows and attractions. And of course enough food in between... Fortunately, I was smart enough not to stay for the evening shows (however cool). Back in my room, I didn't know what I see: my (considerably damaged) suitcase!!! So much effort and energy; but with a lot of help, I finally had my stuff back. The suitcase turned out (as I had suspected from moment 1 and indicated everywhere) to have been left behind during the extra transfer in New York...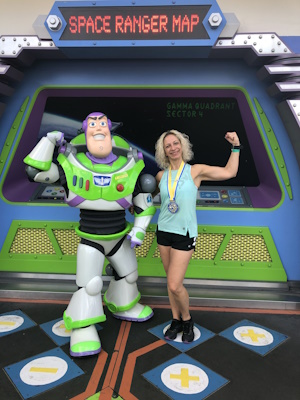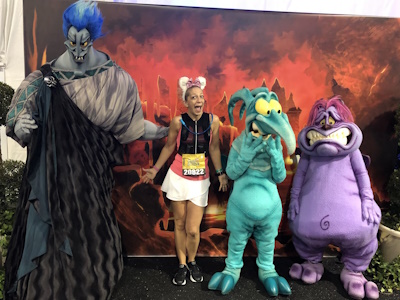 Time for a consultation with trainer Robert who, like my parents, followed me closely from a distance. Because of the expected rapidly rising temperature, we adjusted the strategy for the marathon: don't include all the photo stops to take a rest, but as long as it's dark and the body feels a bit OK, run slowly and don't make any stops to get as far as possible before the temperature would really rise.
After a restless night, that wretched alarm clock rang for the last time at 2am! Get dressed and hop back on that first bus for thankfully another day of Race Retreat. This time I didn't stay so long, as the walk to the start boxes for the full marathon was quite long. Still, I was glad I knew that in advance. By now I was really feeling the kilometres, stress and fatigue in my body. But we were "almost there" so after the fireworks start on for dessert. With 42 kilometres to go, my legs felt pretty stiff already...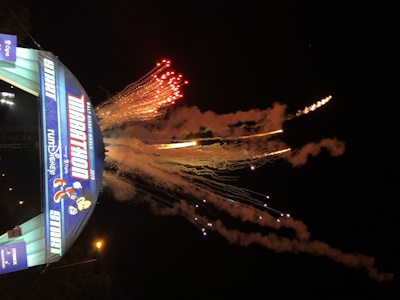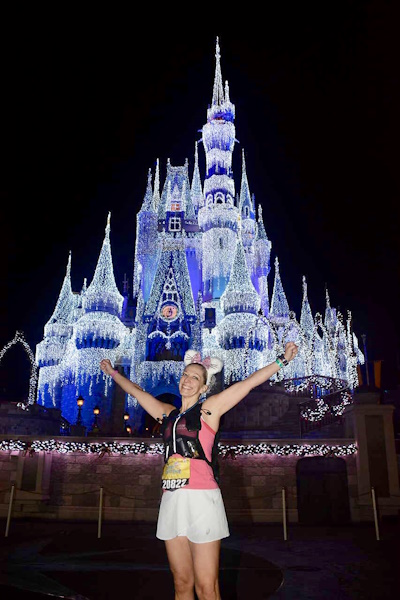 Even at the start it felt humid and fluffy, even though it was only about 6 degrees. This time, the course went right through all the parks and water park, really super cool because you get to go on roads you normally don't. According to plan, I passed all the photo stops. Fortunately, I was allowed to walk through the illuminated castle one more time, so I fully enjoyed that. After Magic Kingdom, the route led to the Grand Floridian Resort and the Wedding Pavillion; from there you could see and feel the sun coming up. The heat was very evident; and then I still had about half a marathon ahead of me...
From then on, I did grab all the photo stops again and made sure I kept drinking enough of my own sports drink. My gels didn't do so well this time, so it was quite a challenge. I walked a lot and had a hard time, but I did enjoy the unique course. Along the way I had a lot of contact with the home front, vital support that I desperately needed! And how nice that this was captured by a photographer at the Hollywood Studios! I knew beforehand that the American friend would be at Boardwalk; so nice to see a familiar face along the way!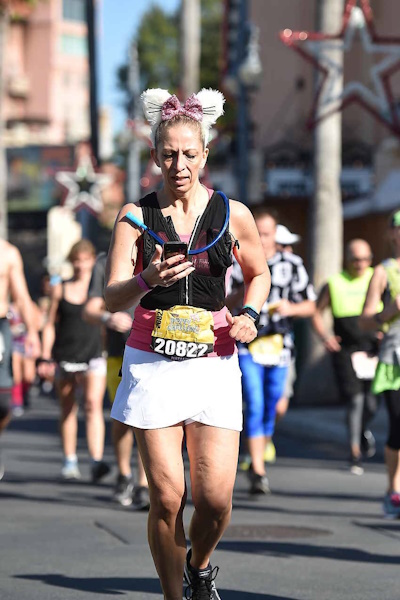 Then I pass that silver Epcot globe for the last time, where at that very moment a Disney song plays which hits me hard and makes me cry.... That last turn and the very last time over that Disney finish line: DOPEY, I DID IT! Never had I thought I could do this.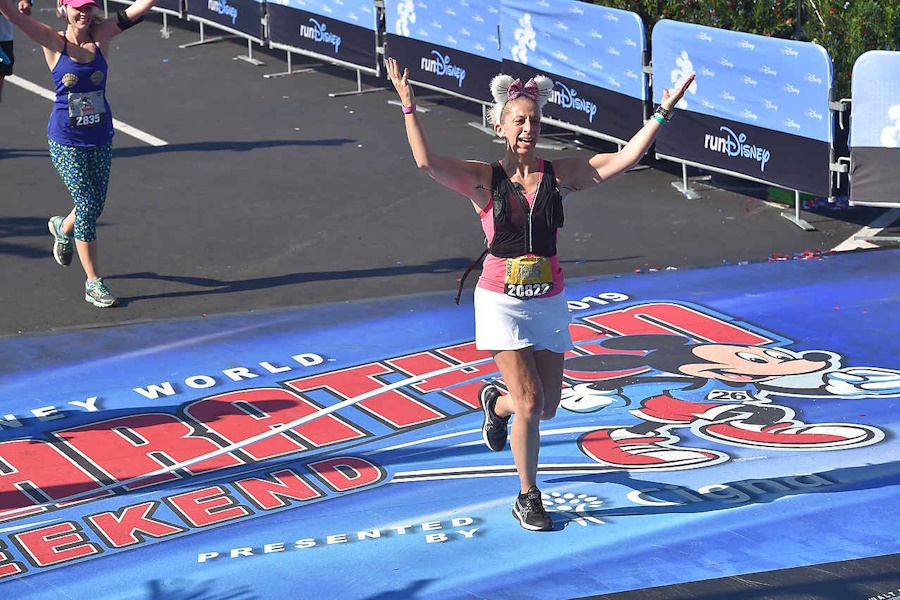 In possession of the marathon and challenge medals, treat myself to a glass of Mickey Mouse Moët champagne and a black RunDisney jacket; well deserved.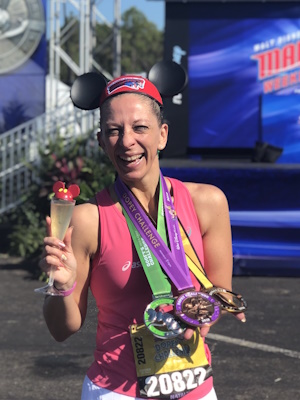 After lots of photos, it was time to quietly head back to the hotel. After a relaxing shower and a nap, we did get back on the road. Because this was celebrated with a special dinner with Dopey and Snow White, transported in style by a very sweet driver who treated me to a ride to the restaurant in his Minnie Van so I don't have to go from bus to bus to bus. At the end of the evening, I also enjoyed the fireworks over Magic Kingdom from a beautiful rooftop terrace, a lovely finale.
The day after, I was still able to get out pretty well, thankfully because of course I wanted to take cool photos with the Photopass photographers at all possible places with my medal collection of 6 medals: 1 for each distance, 1 Goofy (half and full marathon) and the only real Dopey medal. I received so many congratulations, on the spot in the parks, but also via the app and social media. Truly a very unique experience to never forget!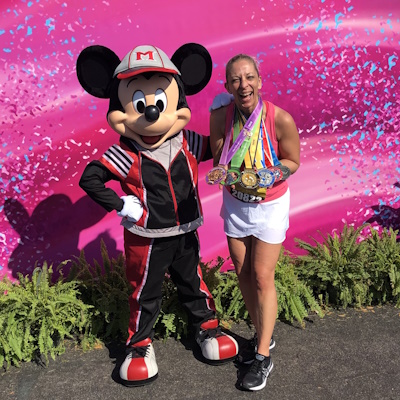 Two more funny details about these runs:
Once the parks are open, you can also just ride the attractions that are open during your run.
It is also possible to buy an ice-cold frozen margharita or other cosy drink in Epcot right before the finish and run across the finish line with it.
By now, we are about 4.5 years on. And guess what? I have the amazing opportunity to do the RunDisney Dopey Challenge again, 5 years after my first Dopey. This time, I am going there with some amazing friends. Let the planning begin!